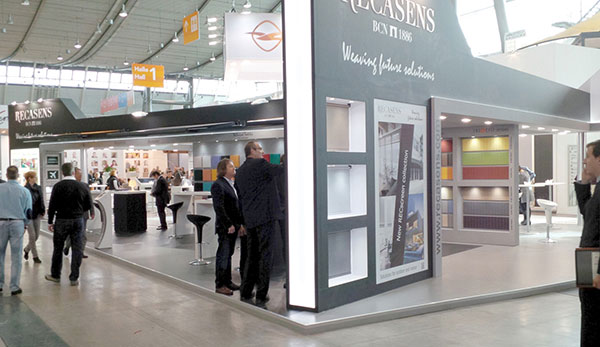 Only a few days have passed since the R+T show in Stuttgart, and RECASENS is already looking  forward to 2018! But now it is time to thank those who visited our booth and met with our team. The key to our success and continual improvement is due to our close relationships with our valued customers that guide our actions and inspire us to pursue new opportunities.
R+T 2015, the world's biggest and best expo for the shutter, gate, and sun protection industries, allows RECASENS to share the latest news about our awning and sun protection fabrics, and demonstrate the unique features and benefits of our functional and attractive fabrics.
The RECASENS exhibit dedicated space to highlight some of our latest and most innovative new fabrics and designs. The RECscreen family of solar protection mesh fabrics featured completely new weave constructions including a new DIAMANTE weave construction, a thinner Serge weave in RECscreen 7000P, and a translucent yarn in CRISTAL that transmits more light whileyeilding a metallic visual effect in the weave. The RECacril® Limited Collection, adds texture to our acrylic fabric collection with the introduction of slub yarns, and new stipes in unique color combinations suit different color tastes around the world. Our new PGT Opaco is a 100% blockout fabric designed for demanding end applications like retractable pergolas and stationary canopies where maximum strength and stability, and minimal solar gain and soiling are critical for long-term performance. Rolling Lights, is an exciting new fabric from RECASENS using a high tenacity polyester base cloth combined with a proprietary coating process to produce a fabric that is self-illuminating when connected with a small electrical charge. Targeted end application include display, billboard, awning, pergola, and tent applications suitable for applications in tents, tarpaulins, billboards and tents. These exciting new fabrics were received with great interest and enthusiasm by our visitors.
Lastly, we want thank those customers who joined us for the International Dinner held at the Porsche Museum. By enjoying dinner together in such a unique setting we hoped to express our gratitude, continue to strengthen our relations, and create a lasting and fond memory of our time together.