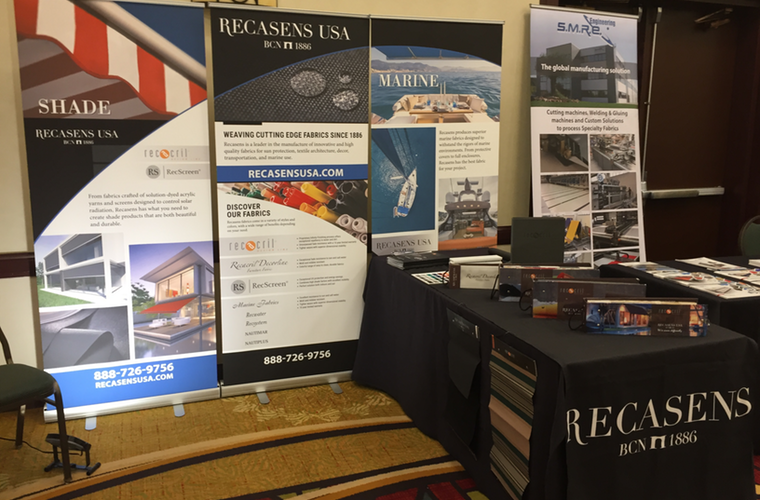 February has been a busy month for the Recasens team as we've traveled to numerous industry events to launch our new 2018 RECacril® collection. It's been a busy time reconnecting with numerous OEM, distributor and fabricator partners as well as making new connections with many companies who are excited to learn more about the advantages of Recasens products. Here's a quick recap of some of the recent events and activities that kicked off our year.
The NECPA convention was held this year in Worcester, MA.
Fabricators attending were the first in the USA to see the beautiful new Recacril Awning Collection consisting of 74 solids and 60 stripe patterns.
Contained within the collection are many new solid colors in neutral shades of gray and beige that give the impression of texture through blending of fibers and yarns, and large scale simple stripes that coordinate perfect with home exteriors and the surrounding environment.
Midwest Fabric Products Association 2018 Convention
February 7-9, 2018
We started the month with an exhibit at the Midwest Fabric Products Association 2018 Convention in Chicago, IL. We were able to attend some great seminars and interactive discussions in between the many meetings with the Midwest's leading awning and marine fabricators and distributors.
Western Canvas Products Association Expo
February 15-17, 2018
From Chicago, we headed out to sunny California to the 2018 WCPA Expo, where we again showcased our new 2018 RECacril collection along with our complete line of other Recasens fabrics. This was another whirlwind event, filled with meetings and great discussions with some of the West Coast's leaders in the awning and marine industries.
R+T
February 27 – March 3, 2018
We are ending our month by travelling all the way to Stuttgart, Germany to participate in the world's leading trade fair for roller shutters, doors, gates and sun protection systems – R+T. This is always an amazing event filled with the latest innovations in the industry! We anticipate a great time meeting with manufacturers, distributors and fabricators from around the world and look forward to cultivating the many new relationships made at this event. If you're going to be there, please stop by our booth at Hall 1 E12. We look forward to connecting with you!